February 24, 2018 @ 2:16 AM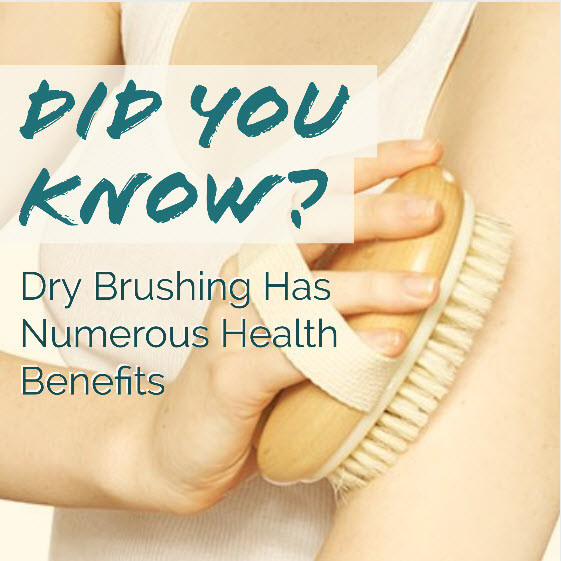 Dry skin brushing originates back centuries in part of Ayurveda's traditional medicines (which includes meditation and yoga). It is just as the name implies--brushing your dry skin. No water, no oil, no lotion. You use a natural bristle brush and brush in sections towards the heart.
How Does It Work? Here is an excellent excerpt from Rich Travis from "Thyroid Nation"
Your skin is an organ of elimination, just like your kidneys, liver and colon. It's the largest organ of your body and it's estimated that one-third of your body's daily impurities are excreted through the skin. Dry skin brushing helps keep the pores clear and the skin active to assist the body in this cleansing process. If your skin becomes inactive, its ability to remove excess toxins is impaired. This places extra stress on other organs and on your body in general.
As we age, our bodies become less effective in shedding outer layers of dead skin cells. This build-up of dead skin can result in a thick, dry and somewhat leathery look, which is often common with more mature skin. As well as exfoliating this outer layer, dry skin brushing also stimulates the sweat and oil glands, providing more moisture for the skin. It also helps keep young skin fresh, vibrant and free of breakouts.
Because your body breathes and absorbs essential nutrients through your skin, regular dry brushing will leave your skin clear of excess debris so it's free to absorb oxygen and other nutrients into your body.
It also stimulates your body from the outside in. It works to cleanse the whole system and is an effective treatment for many ailments. Accumulated waste products in the body are known to contribute to many illnesses as well as premature ageing. Dry skin brushing also increases blood circulation, which helps to contribute to healthier muscle tone and better distribution of fat deposits, also known to many as cellulite.
Some of the Benefits of Dry Skin Brushing
Helps eliminate toxins.
Exfoliates dead skin, revealing a fresh glow.
Stimulates the lymphatic system--boosts the immune system.
Improves circulation, unclogs pores. It's one of the things I do to help keep the edema (swelling) in my calves down.
Boosts skin's elasticity and can help increase muscle tone.
There are some claims that it can help eliminate cellulite (but that claim is controversial)
I am offering an enhancement to a massage session that would begin the session with dry brushing (client provides the natural bristle brush <https://amzn.to/3kWPKpD> or purchases one from me). This will take up to 10 minutes. The massage session will follow using an oil. I would strongly recommend following the massage with a shower, quenching your thirst with water, and not doing anything 'strenuous' the rest of the day/evening. Client will take his/her brush home. I would recommend continuing the dry brush routine on a regular basis at home also. Following are a couple of links that I found very informative.
http://stylecaster.com/beauty/skin-brushing/?dm2sc=1#_a5y_p=1359853
https://www.simplyquinoa.com/dry-brushing-101/
https://www.naturalmavens.com/how-to-dry-brush-skin-properly/
shing-101/